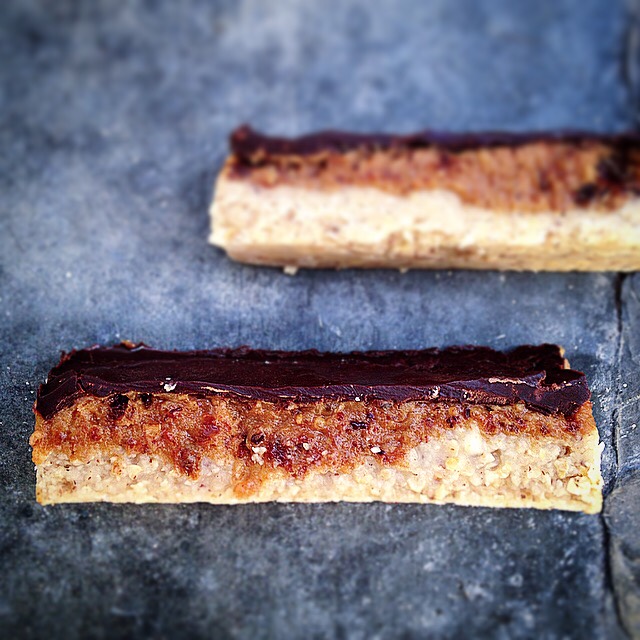 15 Oct

Vegan Peanut butter Caramel Bars

FOR THE CRUST :
4 TBSP. ROLLED OATS
4 TBSP. MIXED RAW NUTS (ALMONS, HAZELNUTS, WALNUTS, PARANUTS)
2 TBSP. COCONUT OIL
FOR THE FILLING :
10 DATES, PITTED
2 TBSP. PEANUTBUTTER (OR CASHEWBUTTER)
8 TBSP. WATER
FOR THE FILLING :
2 TBSP. COCONUT OIL
2 TSPS. UNSWEETENED CACAO POWDER
Line a 10cmx10cmx4cm-baking tray with a sheet of baking paper, leaving a few inches of overhang on the sides to allow for easy removal • Set aside • In a food processor, process oats and nuts until they have broken down and the mixture resembles a rough crumble •
Add coconut oil and continue processing until all the ingredients are well incorporated and the dough begins to stick together • Transfer the dough into the prepared baking tray, using your fingers or a spatula to ensure that it is pressed down firmly and evenly • To make the filling, add the dates, peanut butter, and water to the now empty food processor, and process until the dates have broken down into a paste • When you're happy with the consistency, transfer the peanut butter caramel to the baking tray and evenly spread the caramel over the oat mixture • To make the top, mix the (melted) coconut oil and cacao powder together and transfer the chocolate mixture to the baking tray and evenly spread the chocolate over the peanut butter caramel mixture • Refrigerate for at least 1 hour before cutting into (approx. 4) bars.