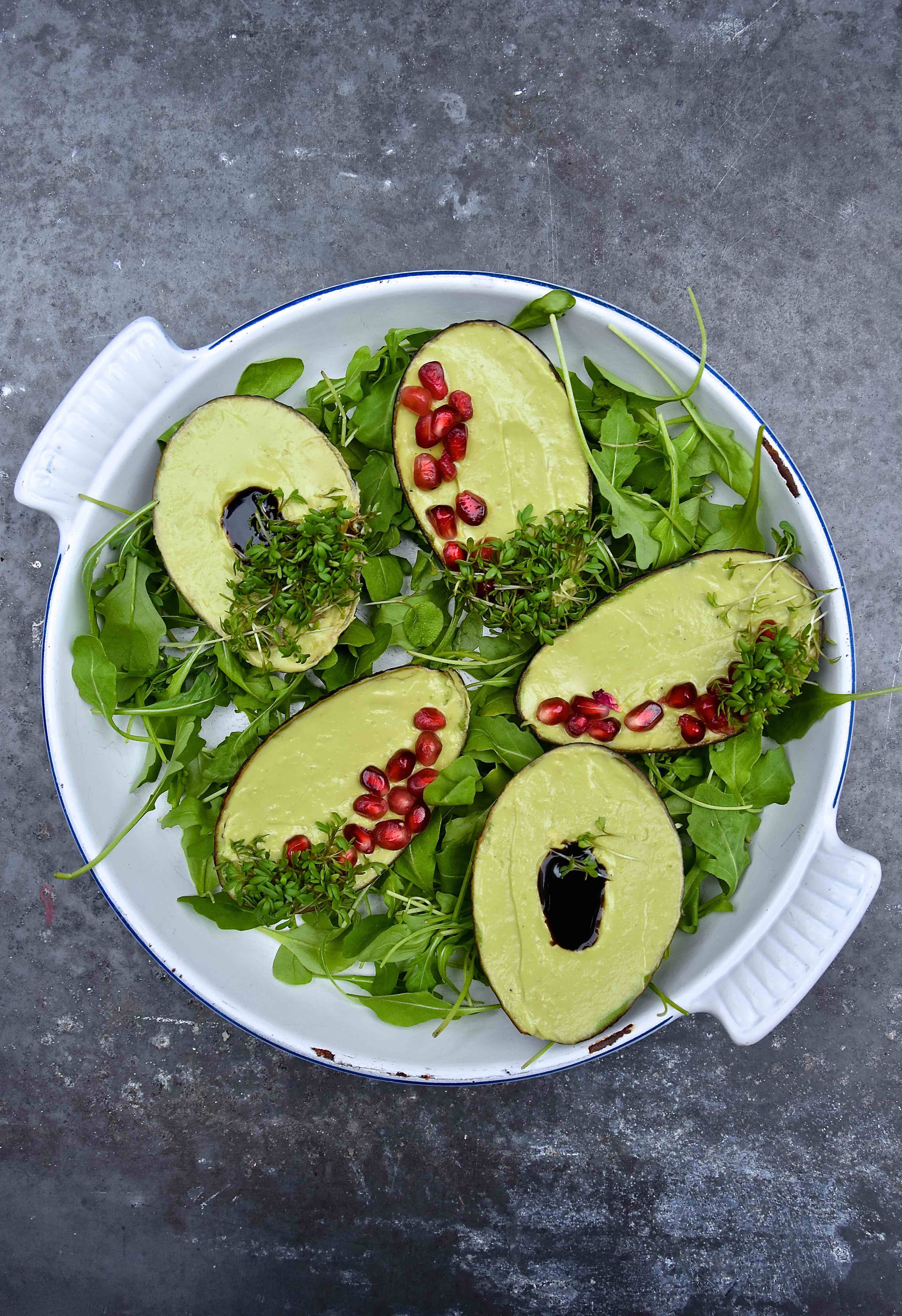 19 Dec

Triple layered avocado

Fooddeco teamed up with Avocados from Peru (AFP) and the World Avocado Organization to celebrate the love of avocados with a complete (6 course) Avocado Christmas Menu!

This is a big starter, make half and share if you're not big eaters. Serve with bread and or crispy crackers and extra balsamic syrup on the side.

Ingredients (serves 4):
Balsamic syrup
The skin of 4 avocado's cut in 8 halves
Decoration: arugula, pomegranate arrows and cress

For the salmon tartare layer:
200 gram smoked salmon
2 tablespoons finely chopped chives
2 tablespoons lemon juice
½ shallot, finely chopped
pepper to taste

For the cauliflower layer:
200 gram cauliflower rice
handful chopped fresh cilantro
2 tablespoons olive oil
pepper and salt to taste

For the avocado crème layer:
2 avocado, flesh from
1 shallot
2 tablespoons olive oil
½ lemon, juice
pepper and salt to taste

Method
Combine all the ingredients for the cauliflower layer and add salt and pepper to taste. To prepare the salmon tartare: finely chop the smoked salmon and add all the other ingredients for the tartare. Add pepper to taste. Combine all the ingredients for the avocado crème layer and use a hand blender to make a super silky crème.

Divide the cauliflower over the 8 empty avocado skins. Press firmly with the back of a spoon. Next layer; the salmon tartare, lightly press. Add the final layer; the avocado crème. Make sure the tops are completely smooth using a knife, so that they look just like avocado halves. On 4 of the halves, add balsamic syrup on the spot where the pit would be. Decorate the other halves with cress and pomegranate arrows
.

Serve with extra balsamic syrup and arugula.