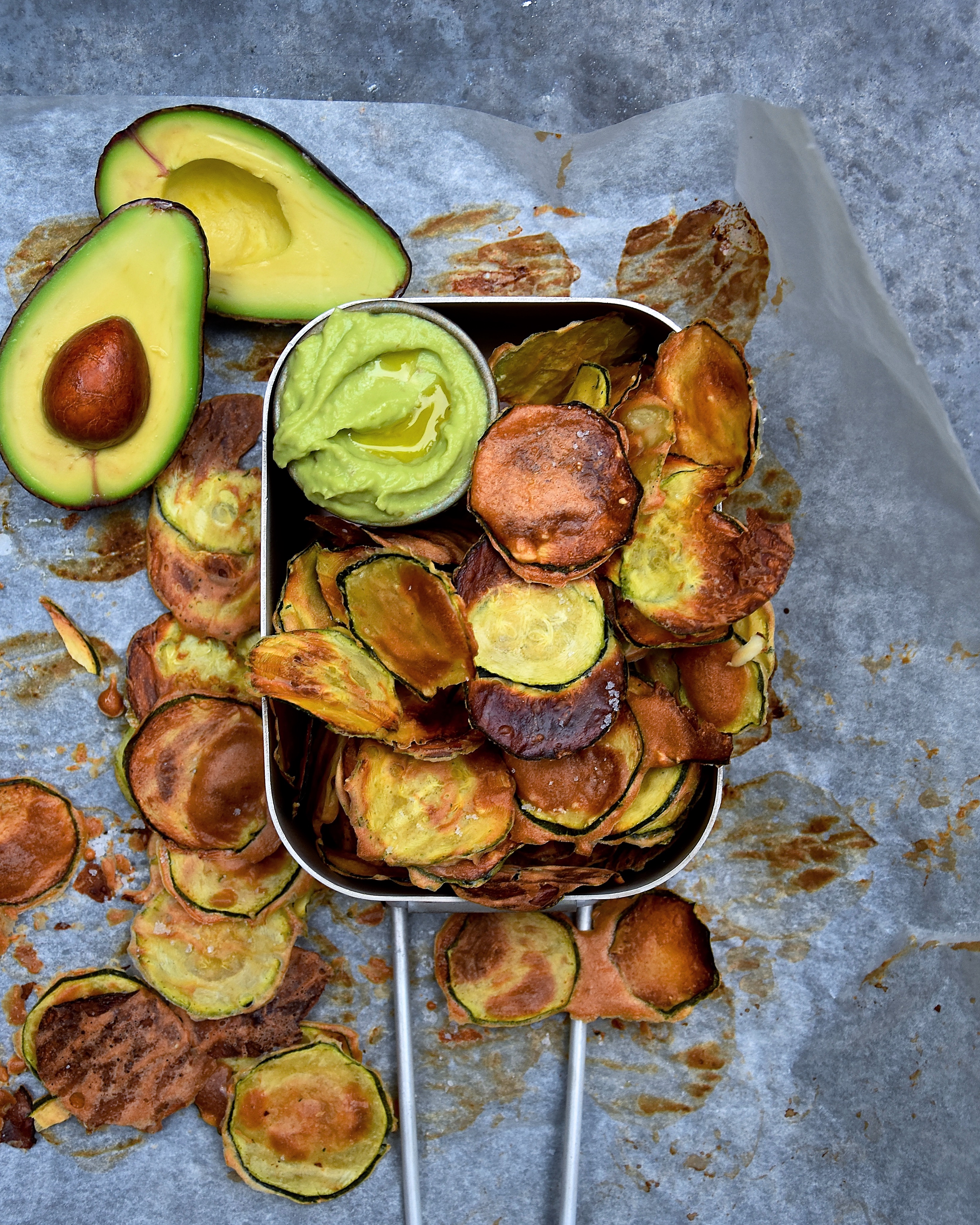 19 Jan

The Crispiest Zucchini Chips with Avoioli (1 portion)

Fooddeco teamed up with Avocados from Peru (AFP) and the World Avocado Organization to celebrate the love of avocados with recipes to inspire you for a Fit January! 

Ingredients
1 zucchini (± 300 gram)
1 tsp. garlic powder
1 tsp. onion powder
pepper and salt to taste
For the batter:
40 gram flour
100 ml almond milk (unsweetened)
1 egg
1 tsp. garlic powder
1 tsp. onion powder
For the avoioli:
2 avocados
1 garlic bulb
2 tbsp. olive oil
½ lemon, juice
pepper and salt to taste
Necessary: parchment paper and a cheese cutter or mandolin slicer

Method
Preheat the oven to 200 degrees Celsius. Trim the top of the top of the garlic head – place in a small oven tray – and drizzle with 1 tbsp. olive oil. Roast the garlic for ± 30 minutes until soft. In the meantime combine all the ingredients for the batter and put aside – to rest. Wash the zucchini and use a cheese slicer or mandolin slicer to cut super thin slices zucchini. Cover a big (or 2 smaller) oven trays with parchment paper. Dip each slice of zucchini in the batter and line up on a baking sheet.
When the garlic head is roasted – let it cool down. Keep the oven on 200 degrees. Put the zucchini in the oven – bake for ± 10 minutes on 200 degrees Celsius. Turn off heat and let the chips in the oven until golden brown. Each oven works differently – it will take about 20 minutes.
Meanwhile make the avoioli – press on the bottom of each garlic clove to push it out of its paper. Combine garlic, avocado flesh, olive oil, lemon juice and salt to taste.
Add salt to taste on the crispy chips and serve with the avolili!

P.S also a great snack for kids!