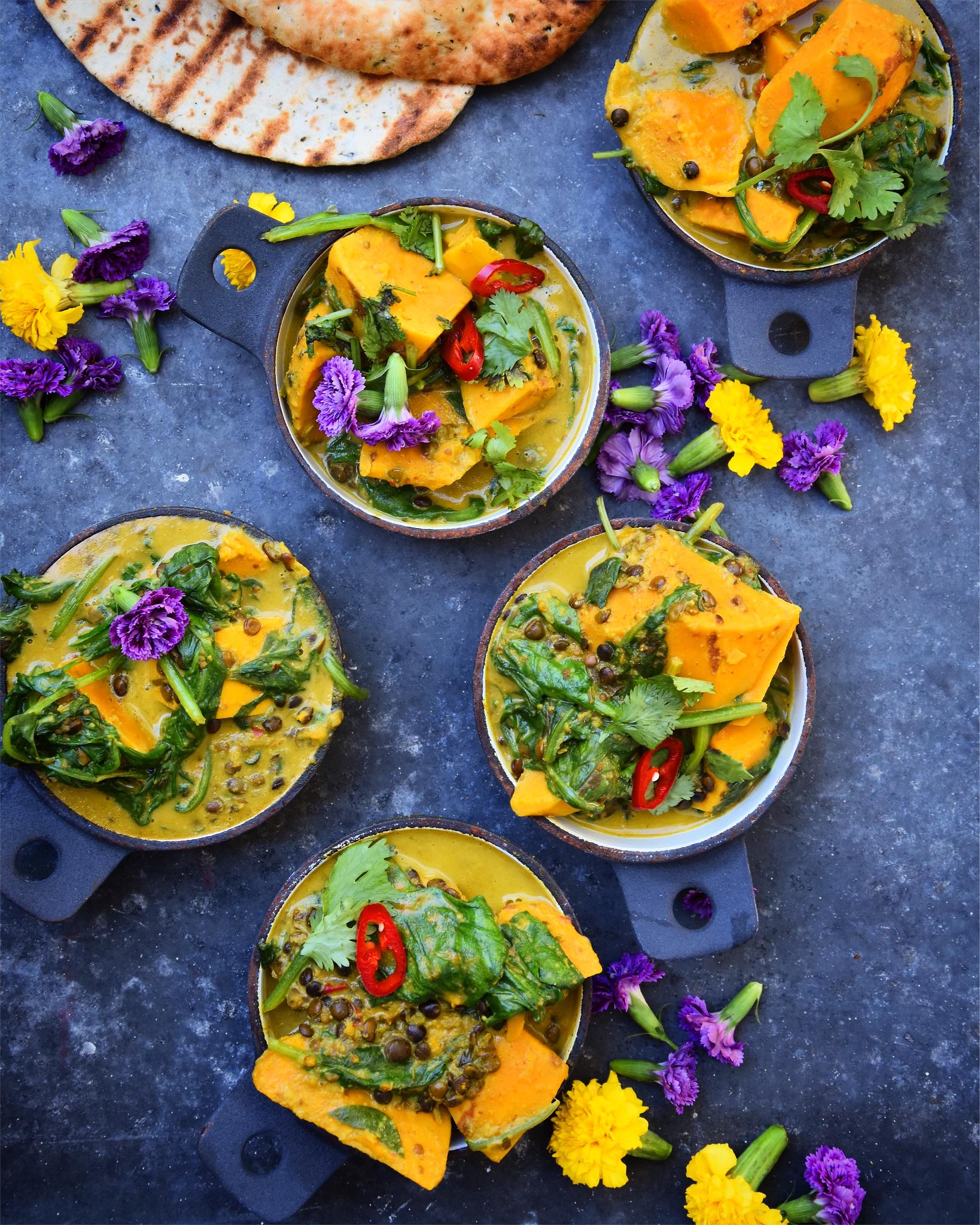 24 Aug

Sweet Potato Curry

Ingredients

curry paste:
1 red chili pepper
2 shallots
4 garlic cloves
2 cm ginger
2 tbsp. roasted (ground) fennel seeds
2 tbsp. roasted (ground) cumin seeds
2 tbsp. roasted (ground) coriander seeds
1 tbsp. turmeric
1 tbsp. tamarind paste
6 tbsp. sunflower oil

2 sweet potatoes, peeled and cut into big chunks
2 cans coconut milk (400 ml each)
1 piece of lemongrass – bruised with the back of a knife
5 lime leaves
Small bunch of coriander
200 gr. lentils (cooked)
300 gr. washed spinach

Optional: lime wedges, naan bread, chili

Method
Combine all ingredients for the curry paste with a hand blender – make sure you roast (no oil) the seeds before adding them to the mixture.
Use a big casserole – put on medium heat – and bake the curry paste until all flavors start to develop – approximately 5 minutes. Add sweet potato chunks and make sure all sweet potatoes are covered with the paste. Add coconut milk + lemongrass + lime leaves + chopped coriander stalks and bring to a boil. Let it simmer for 30 minutes, until the sweet potatoes are tender (depending on the size of your chunks) and the curry sauce is getting thicker. Remove the lemongrass and lime leaves and add salt to taste. Add lentils, spinach and let simmer for another 5 minutes until spinach is cooked. Serve with fresh coriander, lime, chili and naan bread.