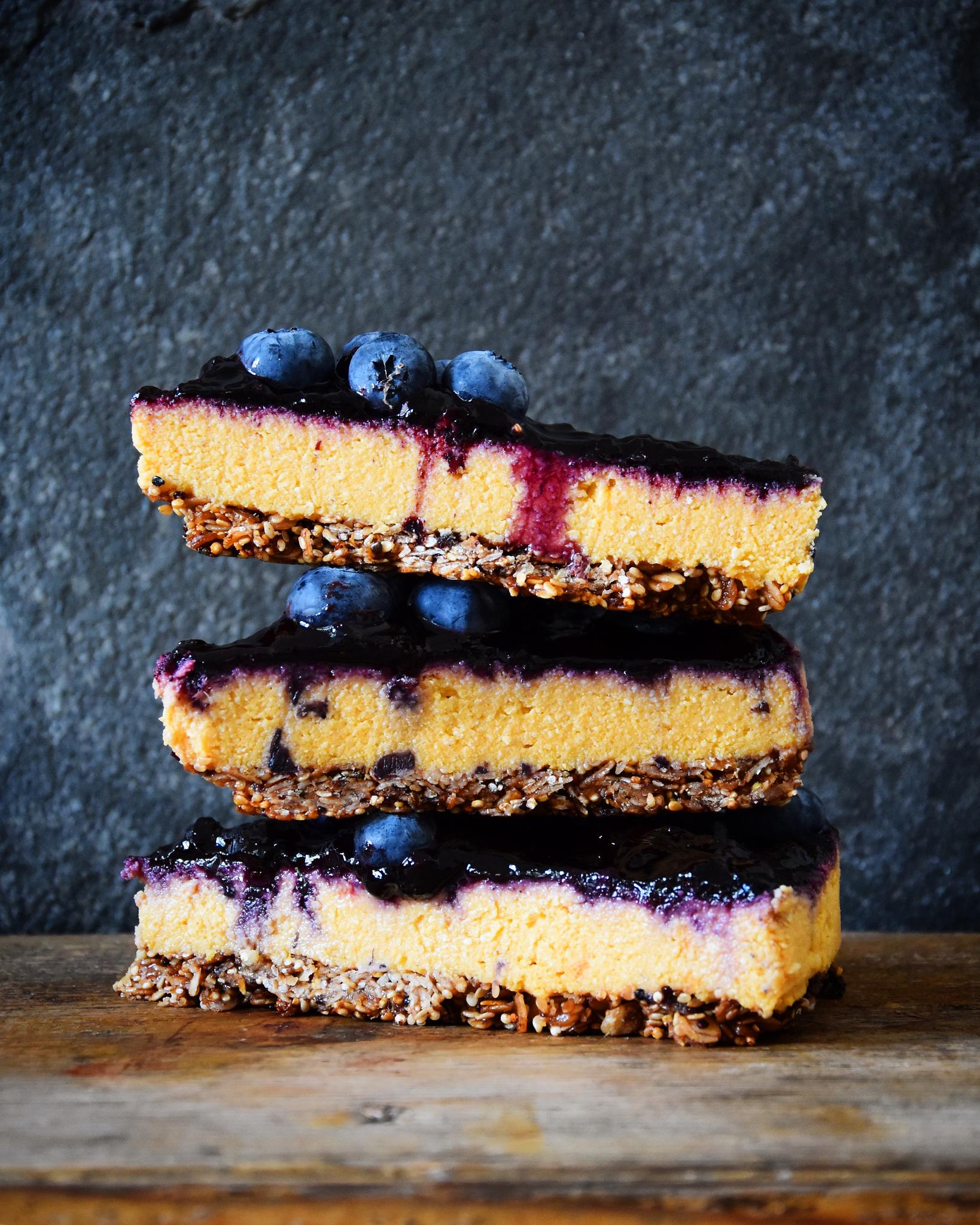 15 Aug

Sweet Potato Cheesecake

Ingredients
Crust
100 gr. Rolled oats
50 gr. Quinoa
50 gr. Sesame seeds
100 gr. Honey (maple syrup for vegan)
1.½ tbsp. Coconut oil
1 tbsp. Sunflower oil
1 tbsp. Cinnamon

Filling
500 gr. Tofu
500 gr. Sweet Potato (oven-roasted)
2 tbsp. Vanilla sugar
100 gr. Honey (maple syrup for vegan)
100 gr. Coconut flour
1 tsp. Baking powder

Topping
250 gr. Of your favorite store bought (or homemade) jam. I used blueberries.
Fresh fruit. I used bluebrerry

Method
Preheat oven at 180 degrees Celsius. In a small saucepan melt honey (for the crust), coconut oil, sunflower oil and cinnamon until thoroughly combined. Mix dry crust ingredients (oats, quinoa and sesame seeds) and add the honey mixture – make sure every oat is lightly covered.
Spread the mixture (in a single layer) on a baking sheet covered with baking parchment.
Bake until golden, about 30 minutes, stirring every 10 minutes.
Lightly grease (with coconut oil) a cake tin and put mixture in the tin. Spread evenly over the base and press down firmly with the back of a spoon. Leave to set and cool down for 30 minutes.
In the meanwhile add sweet potato flesh in a high-speed blender with tofu, flour, vanilla sugar, honey and baking powder. Blend on high until very creamy and smooth, scraping down sides as needed.
Pour filling over cooled crust and spread into an even layer. Bake in the oven at 120 degrees Celsius for approximately 30 to 45 minutes – until lightly brown. Let it cool, add a layer of jam and refrigerate for at least two hours. Top with fresh fruit.