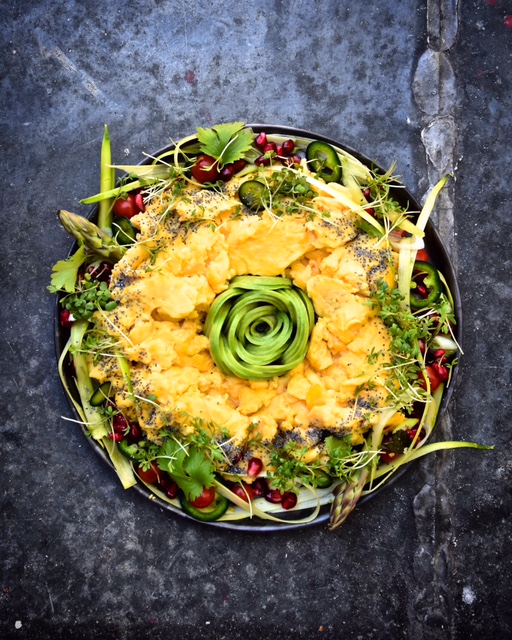 23 Jul

SCRAMBLE GARDEN

with: ginger, poppy seeds, jalapeno, cilantro, pomegranate, asparagus ribbons,
spring onions and tomberries (the worlds smallest tomato)

INGREDIENTS (serves 2/3)
6 EGGS
2 CM FRESH GINGER, GRATED
FRESH GROUND PEPPER AND SALT, TO TASTE
TOPPINGS:
½ AVOCADO
3 GREEN ASPARAGUS, WITH A VEGETABLE PEELER SLICED IN RIBBONS
1 SPRING ONION, FINELY SLICED
CRESS
1 JALAPENO PEPPER, SLICED
SMALL BUNCH OF FRESH CORIANDER
POPPY SEEDS
TOMBERRIES

METHOD
Whisk (with a fork) the eggs, ginger and a pinch of salt and fresh ground pepper together until all the ingredients are just combined and the mixture has one consistency.
In the meanwhile, make an avocado rose. Heat a small non-stick frying pan and add some olive oil. Pour in the eggs and let it sit (without stirring) for 20 seconds. Stir gently with a wooden spoon, repeat until the eggs are softly set, silky and slightly runny in places. Then remove from the heat and leave for a few seconds, it will continue cooking.
Give a final stir, transfer scramble to a big (sharing) plate and add toppings. Season with salt and pepper to taste.