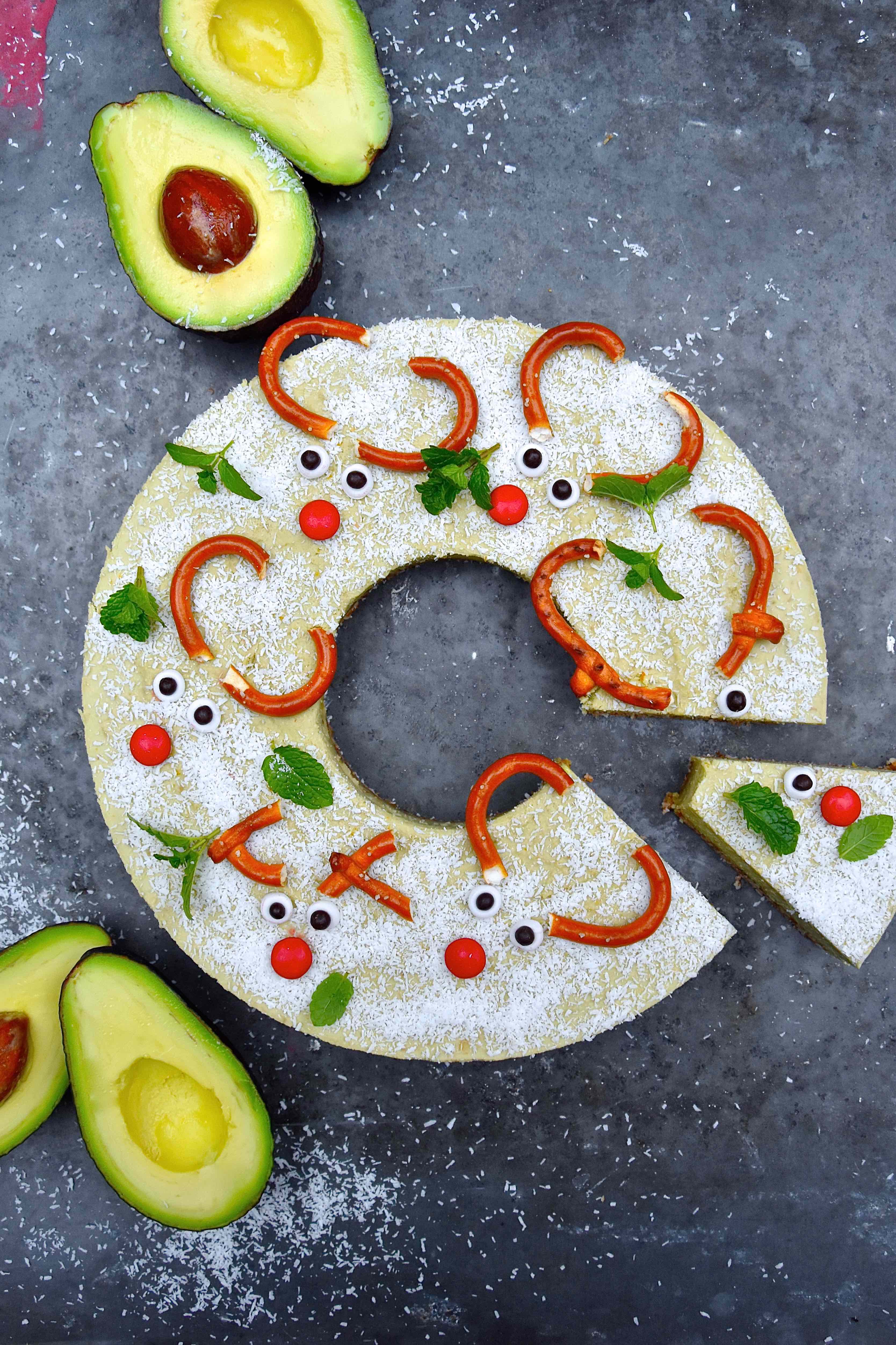 19 Dec

Merry Christmas cheesecake wreath

Fooddeco teamed up with Avocados from Peru (AFP) and the World Avocado Organization to celebrate the love of avocados with a complete (6 course) Avocado Christmas Menu!

For the crust:
175 g untoasted almonds
200 g pitted dates
75 g grated coconut (+ extra for decorating)
2 teaspoons anise seed

For the filling:
200 gram untoasted cashews
2 avocados
150 ml coconut cream
125 gram coconut oil, melted
3 tablespoons agave syrup (or maple syrup, or honey)
1 orange, zest
1 lemon, zest and juice
1 tablespoon vanilla aroma

For the rendeers:
Nose: red m&m's
Horns: mini pretzels
Eyes: white fondant
Fresh mint leaves

Method:
Soak the untoasted cashews in water in a covered dish; leave overnight in the fridge. Before you start making the crust, turn them into a strainer and drain well.

To make the crust, coarsely grind the untoasted almonds in a food processor. Add the other crust ingredients and grind until well blended. To make the wreath shape: Put a glass ± 8 to 10 cm diameter in the middle of the spring form, distribute the mixture over the bottom of the spring form. You don't need to grease the pan. Divide evenly and press down firmly.

Clean the food processor, and grind the cashews into a butter, then add the rest of the ingredients for the filling and mix until completely smooth. Taste the filling and add more agave and/or vanilla to taste. Pour the filling onto the crust, cover the cheesecake and put it in the fridge to set for at least 4 hours. Remove the cake from the spring form, and decorate with 'rendeers'.