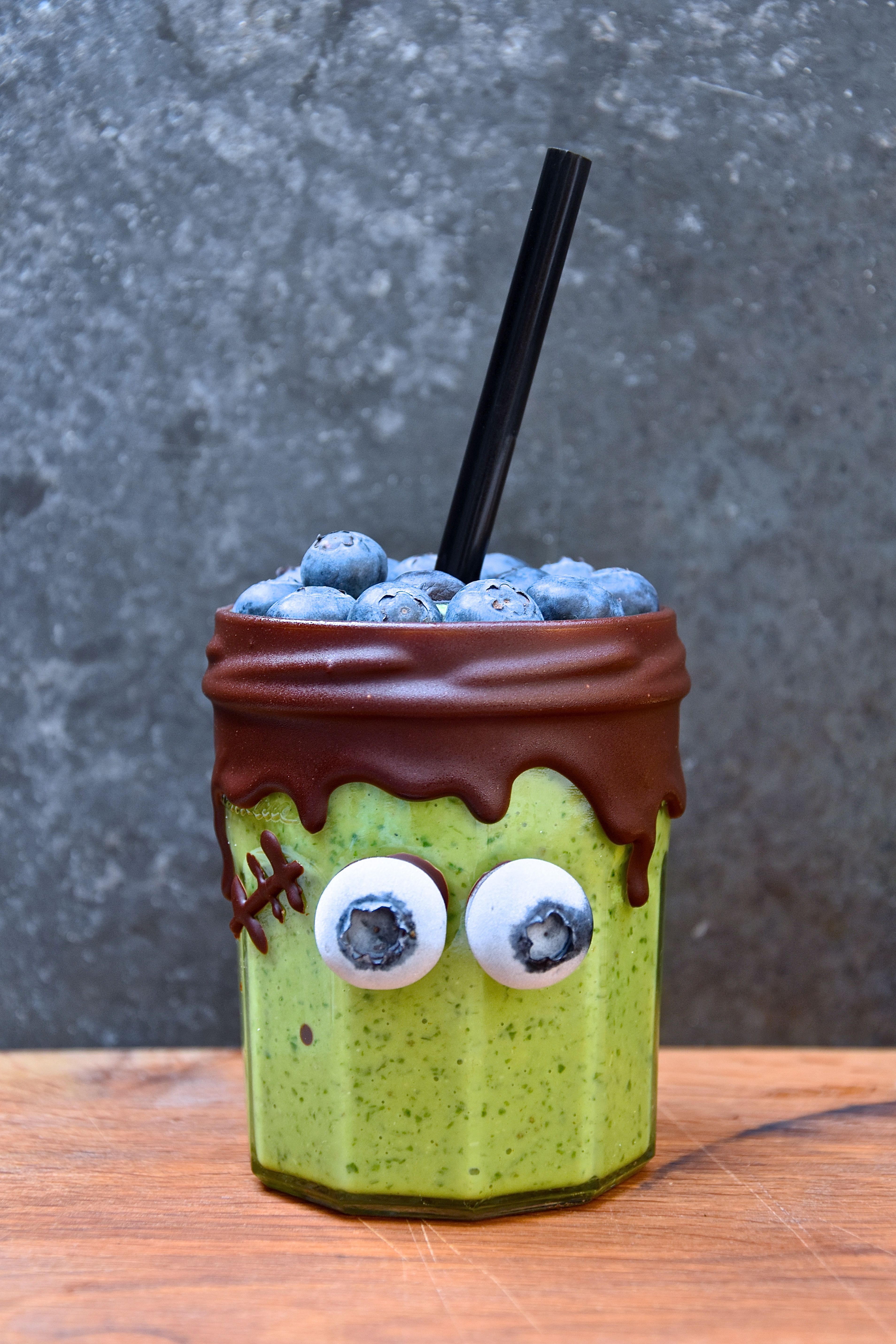 31 Oct

Frankenstein smoothie with dark chocolate 'hair'

Fooddeco teamed up with Avocados from Peru (AFP) and the World Avocado Organization to celebrate the love of avocados with four 'Avoween' recipes!

Ingredients (for 2 smoothies)
1 avocado (from the refrigerator), flesh from
1 handful of (unsalted) walnuts
100 gram fresh spinach
½ celery stalk
1 tsp. chia seeds
1 tsp. hemp seeds
1 green apple (from the refrigerator)
2 tbsp. agave syrup
250 ml almond milk, unsweetened
For the chocolate (hair) rim: 50-gram pure chocolate
Topping (brains): Blueberries

Method
Melt the chocolate au bain-marie. Turn a glass (or jar) upside-down and spoon a generous amount of chocolate along the upper rim of the glass. Rotate the glass until you've coated the entire rim. Now turn the glass right side up, and the chocolate will run down the sides. Make sure you're close to the freezer. If the chocolate resembles 'Frankenstein' hair, put the glass in the freezer at once, and leave in there for at least 5 minutes. Repeat with the second glass. Remove the glasses from the freezer – use a small drip of chocolate and use it to glue 2 blueberry 'eyes' to the frozen glass. Repeat with the second glass. Optionally make a stich with the chocolate and a skewer (as seen on photo). Put both glasses back in the freezer for another 5 minutes.

Meanwhile, make the smoothie. Blend all the ingredients in a foodprocessor until smooth. Pour the smoothie into the glasses (or jars), put blueberries on top and add straws. Serve immediately.