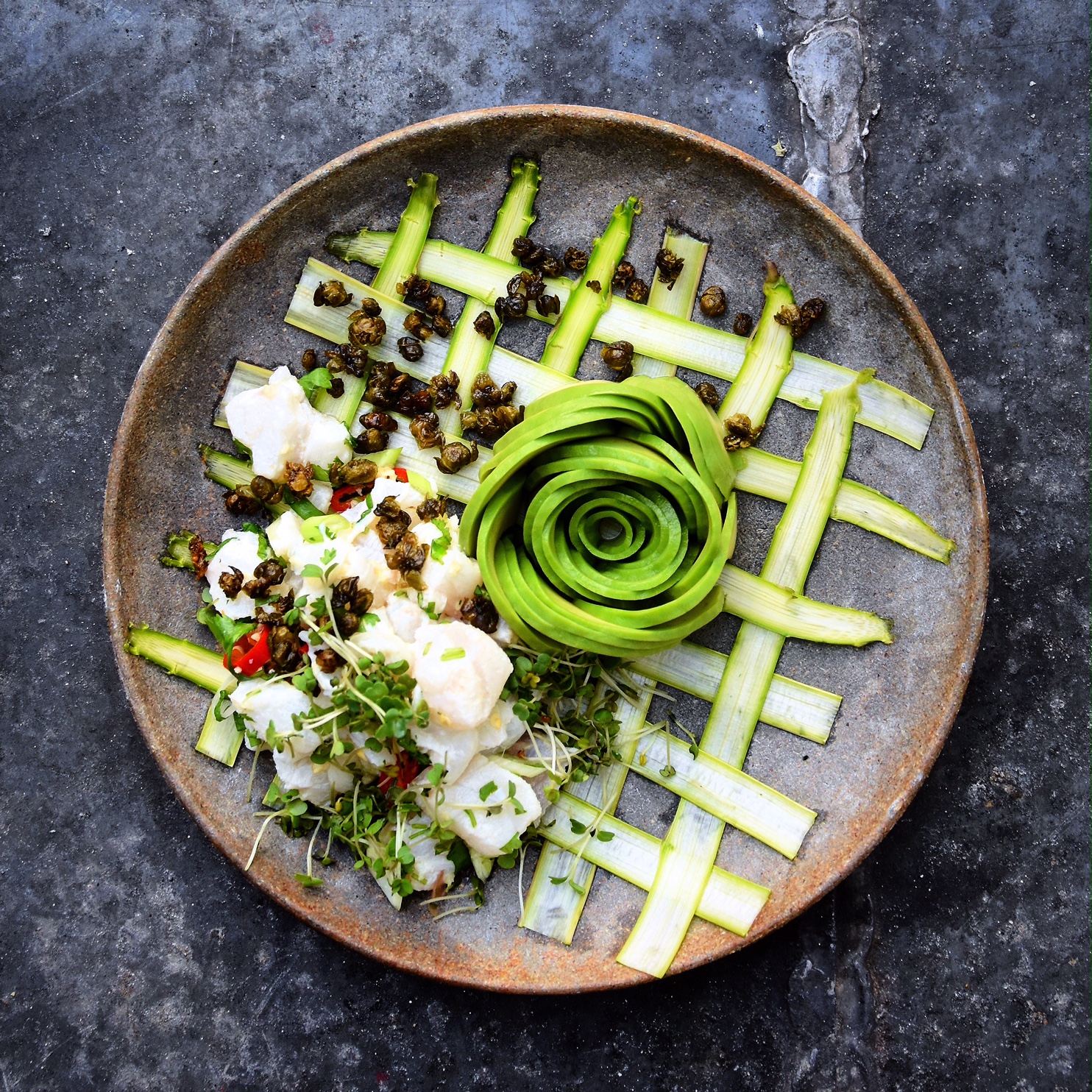 20 Jul

COD CEVICHI WITH CRISPY CAPERS

INGREDIENTS (serves 2)
100 GR. SUPER FRESH COD
1 LIME, JUICE
½ CHILI PEPPER, THINLY SLICED
1 PIECE OF GINGER (± 3 CM), GRATED
GOOD PINCH OF SALT
4 GREEN ASPARAGUS + SUSHI VINEGAR
1 AVOCADO
FRESH MINT
FRESH CORIANDER
1 SPRING ONION, THINLY SLICED
OLIVE OIL

CRISPY CAPERS
4 TBSP. CAPERS (CAN)
2 TBSP. VEGETABLE OIL

METHOD
Cut the super fresh cod in small cubes, approximately 1 cm.
Mix together the lime juice, chili pepper, grated ginger and a good pinch of salt. Put it in the fridge to chill.

Meanwhile prepare the crispy capers. Remove crispy capers from can and let them dry on a plate that has been lined with a paper towel. Make sure they're not too soggy and as dry as possible. Heat up ± 2 tablespoons of vegetable oil in a frying pan. Add capers and fry until brown and crispy, this will take approximately 5 minutes. Let them dry on a plate that has been lined with a paper towel and serve immediately.

Cut the avocados in half, remove the pit and peel of the skin. Make two avocado roses. Trim the bottom ends off the asparagus and use a vegetable peeler to shave them into long, thin ribbons. Mix the ribbons with a tablespoon sushi vinegar.

When you're ready to serve, pour the dressing over the fish mixture and carefully mix it up. Leave it to sit for about 5 minutes. Add mint, coriander, spring onion and a glug (± 1 tbsp.) of olive oil to the mix. Toss together.

Divide the mix over two plates and drizzle with the dressing. Add some extra fresh herbs, crispy capers and place an avocado rose on top.