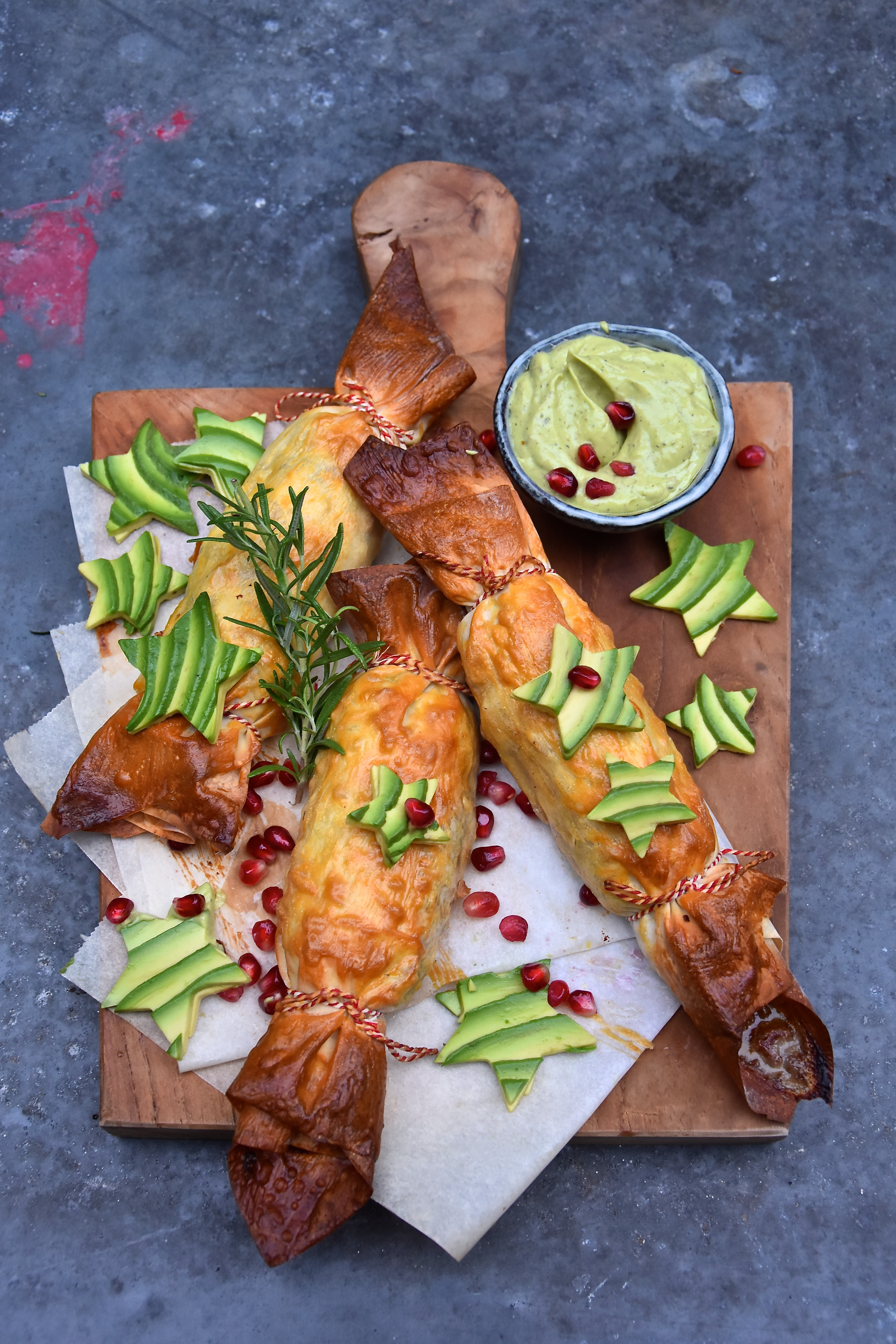 17 Dec

Christmas crackers with truffle avonaise

Fooddeco teamed up with Avocados from Peru (AFP) and the World Avocado Organization to celebrate the love of avocados with a complete (6 course) Avocado Christmas Menu!

Ingredients (serves 4)
1 avocado to make avocado Christmas stars (as seen on the photo)
1 egg yolk
1 tablespoon truffle oil
Necessary: 8 pieces butchers twine (35 cm), 2 sheets parchment paper, star
shaped cookie cutters in different sizes.

For the Christmas crackers:
8 sheets phyllo pastry
500 gram pumpkin, diced
1 small red onion, finely chopped
2 tablespoons truffle oil
1 garlic clove, grated
1 sprig of fresh rosemary (+ extra for decoration)
1 can lentils, ± 200 gram
black olives, handful (pitted)
200 gram feta cheese, crumbled
pepper and salt to taste
For the truffle avonaise :
1 avocado
4 tablespoons truffle oil
2 teaspoons truffle tapenade
pepper and salt to taste
Method
Preheat oven to 200 degrees Celsius. Roast the pumpkin on parchment paper
– with 1 tablespoon truffle oil. For approximately 30 minutes until soft.
Combine all other ingredients for the crackers (minus the pastry) and bring to
taste with pepper and salt. Add the roast pumpkin and mix to combine.
Put a phyllo pastry sheet on your cutting board, coat with water and put a
second phyllo sheet crosswise on top. Divide the cracker stuffing in 4 and add
¼ off the stuffing on the pastry sheets. Roll the filling up in the filling pastry.
Twist the ends and use the twine to make a nice bow. Repeat with the other
ones.
Wisk the egg yolk and truffle oil and brush the crackers to make them golden
brown! Bake the Christmas crackers – on parchment paper – for ± 15 minutes
until golden brown and crispy.
Meanwhile make the avocado stars using a star shaped cookie cutter.
Combine all the ingredients for the truffle avonaise, use a hand blender to
make the avonaise super smooth and add salt and pepper to taste.
Decorate the platter with pomegranate arrows, Christmas avocado stars and
some sprigs of fresh rosemary.