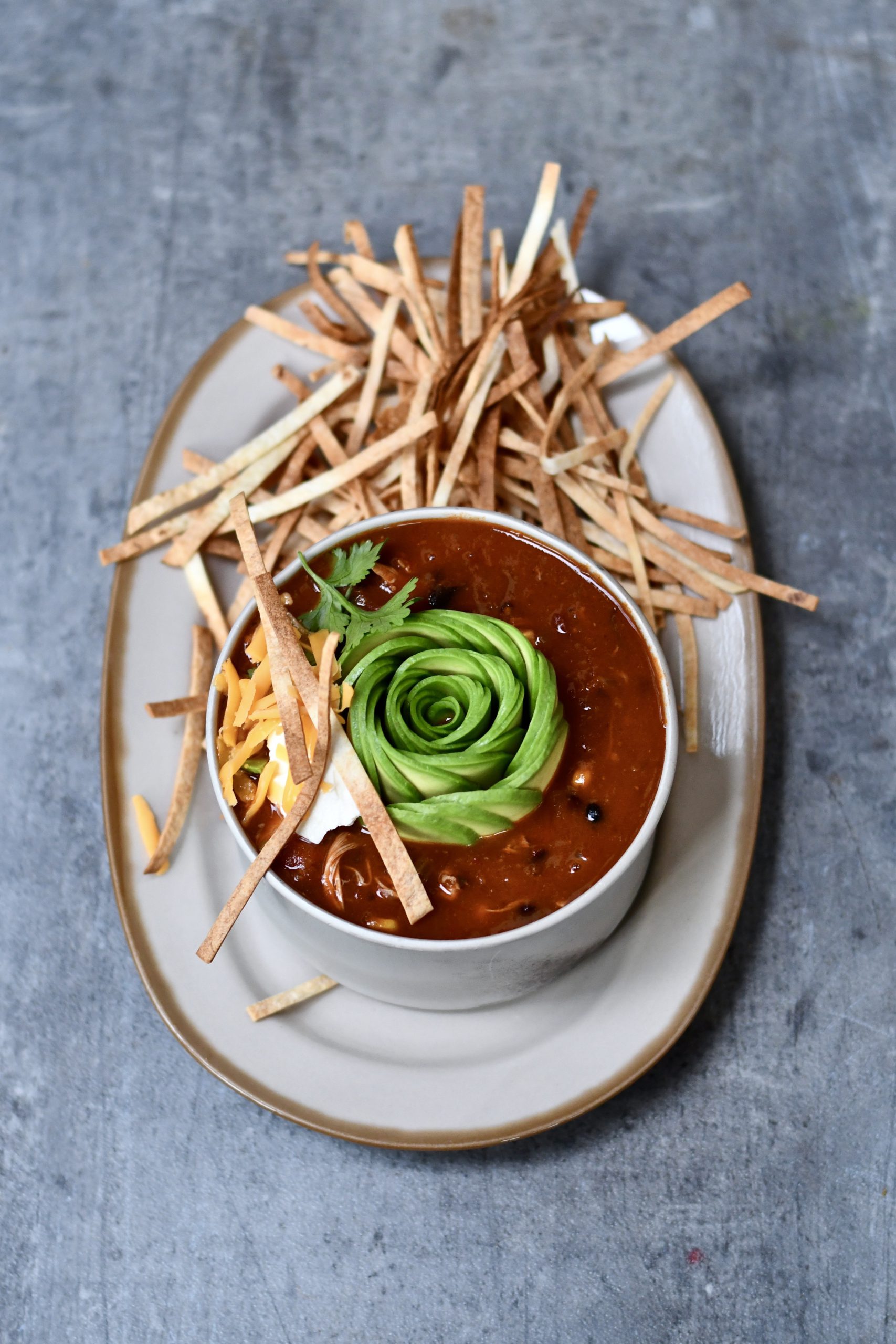 12 Jan

Chicken Tortilla Soup, serves 4

Fooddeco teamed up with World Avocado Organization and Avocados from Peru (AFP) to celebrate the love of avocados with recipes to inspire you.

Ingredients

3 tbsp. olive oil

1 white onion, finely diced

3 garlic cloves, grated

1 celery stalk, finely diced

1 small bunch coriander

1 tsp. cumin powder

3 chipotle peppers from canned chipotle in adobe, finely diced (more or less to taste)

4 skinless, boneless, chicken thighs

225 gram corn, canned

265 gram black beans, canned

1 liter chicken stock

6 ripe tomatoes (Å} 750 gram)

500 ml tomato frito

2 bay leaves

optional toppings: avocado, grated cheddar cheese, sour cream and coriander leaves.

Needed for the tortilla strips

2 big tortilla wraps

1 tbsp. olive oil

Method

Bake the onion, garlic, celery, coriander (chopped chalks only), cumin and adobe peppers – in olive oil – for approximately 15 minutes until soft and super fragrant. Brown both sides of the chicken thighs – for a few minutes – in the mixture.

Add all the other ingredients, bring to the boil and let simmer for 3 to 4 hours. Once ready to eat, preheat the oven to 200 degrees Celsius and slice both wraps into thin strips. Combine the strips with the olive oil and bake in a preheated oven for approximately 5 to 10 minutes until golden brown and crispy. Remove the bay leaves from the soup and add salt and pepper to taste. Serve the soup in big bowls and add toppings to your liking.