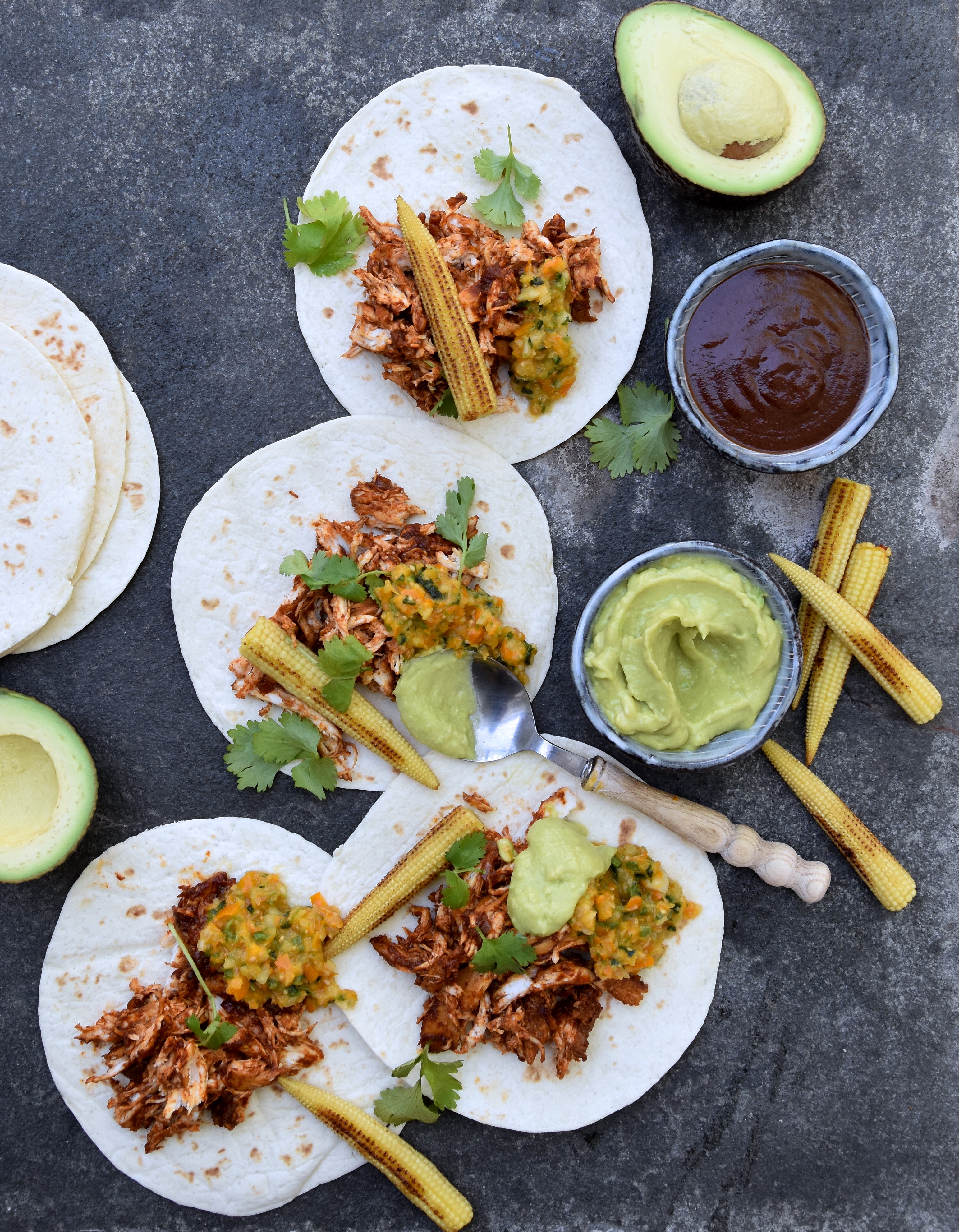 22 Jul

BBQ SAUCE PULL CHICKEN TACO'S with: Avonaise and Yellow Salsa

INGREDIENTS (serves 2)
2 CHICKEN BREASTS, ± 400 GR.
2 WHITE ONIONS
2 GARLIC CLOVES
OLIVE OIL
1 TBSP. PAPRIKA POWDER
1 TBSP. CUMIN POWDER
200 GR. BBQ SAUCE (homemade or your favorite store bought)
½ RED CHILI, CHOPPED
6 MINI SOFT TACOS
OPTIONAL: GRILLED MINI BABY CORN

AVONAISE
1 AVOCADO
4 TBSP. OLIVE OIL
2 TBSP. SUSHI VINAGER
2 TSPS. YELLOW MUSTARD

YELLOW SALSA
250 GR. YELLOW TOMATOES
1 JALEPENO, CHOPPED
1 WHITE ONION, DICED
1 GARLIC CLOVE, MINCED
1 LIME, JUICE AND ZEST
1 TBSP. OLIVE OIL
BUNCH OF FRESH CORIANDER (STALKS AND ALL), CHOPPED (+EXTRA FOR TOPPING)

METHOD
Chop the onions and garlic cloves for the pull chicken. Use a big cast iron pan and pour in a big glug of olive oil. Add onions, garlic and chili, sauté for 5 minutes, until tender. Add paprika powder and cumin powder and let simmer for another 5 minutes. Add chicken breast, BBQ sauce and make sure the chicken breasts are completely covered in sauce. Cover lid and let simmer for
approximately 1 hour, stir every 20 minutes.Meanwhile, put all ingredients for the avonaise in a small bowl and combine all ingredients with a hand blender until everything is thoroughly combined. Add salt and pepper to taste.

Use a food processer to make the yellow salsa, add all ingredients and pulse until you have a thoroughly mixed but still course salsa. Salt and pepper to taste. Refrigerate for at least one our, to let all the flavors develop.

Remove BBQ chicken from pan, take two forks and shred the chicken.
Meanwhile heat the soft tacos in a grill or microwave. Serve tacos topped with BBQ Pull Chicken, yellow salsa, avonaise, fresh coriander, grilled baby corn + extra BBQ sauce.