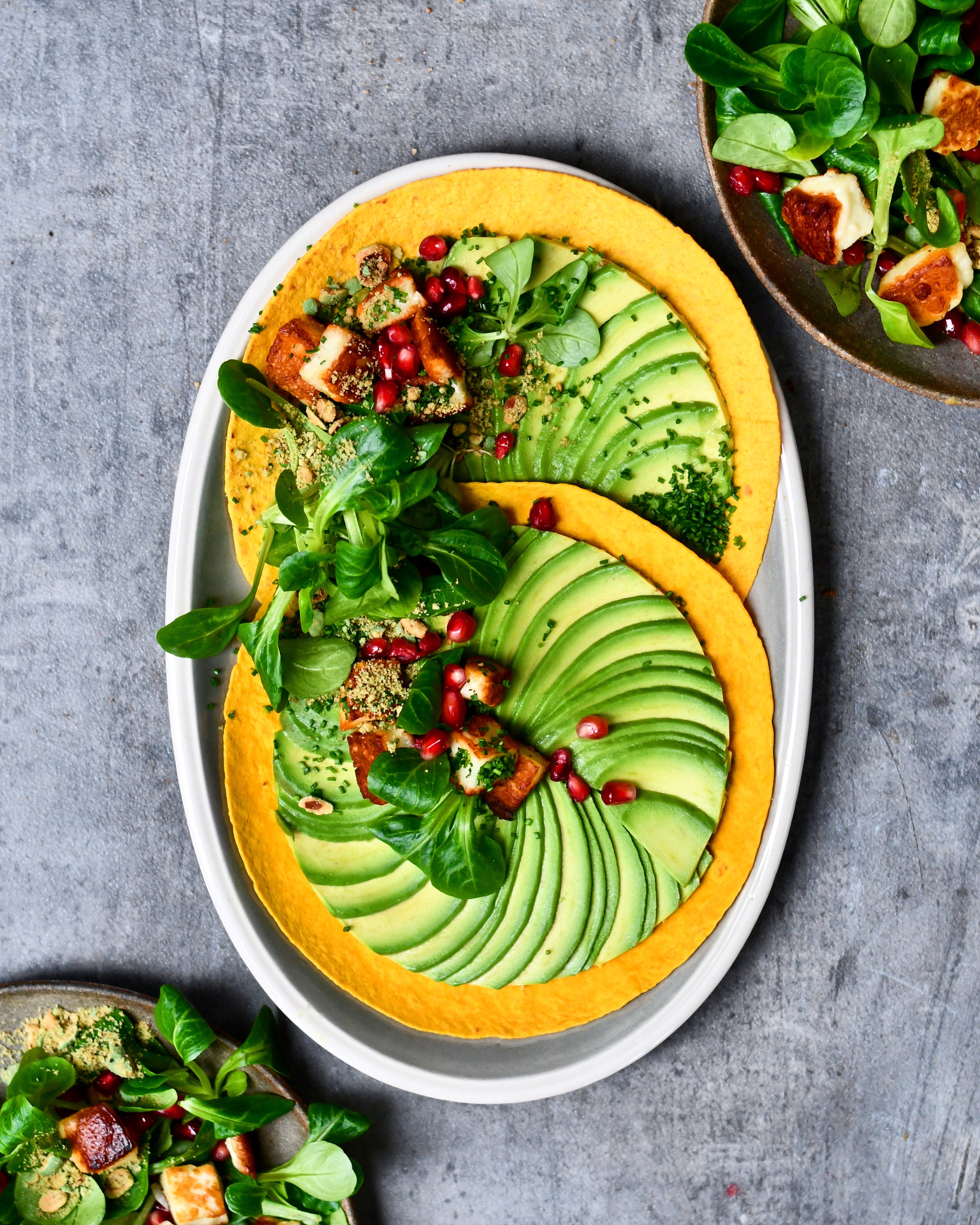 12 Jan

Avocado & Halloumi Wrap, serves 4

Fooddeco teamed up with World Avocado Organization and Avocados from Peru (AFP) to celebrate the love of avocados with recipes to inspire you!

Ingredients

4 avocados

sushi vinegar (optional)

4 carrot wraps

225 gram halloumi, drained and cut into cubes

50 gram pomegranate seeds

small bunch fresh chives, finely chopped

85 gram lamb's lettuce

50 gram wasabi coated peanuts, crumbled in a food processor.

truffle-oil, to taste

Method

Cut the avocado in half lengthwise, and remove the pit and the peel. Rub the avocado halves with sushi vinegar – this adds a touch of extra flavor and keeps them from discoloring. You can also use lime juice for this purpose.

Place all avocado halves on your cutting board with the rounded side up, and cut them lengthwise into very thin slices. Place two halves on each tortilla wrap. Gently press down on both of the halves and spread them into fans. Place the fans alongside each other, and make the whole thing as round as possible (about 20 cm in diameter). Now, find a pan lid or bowl that's just a little bit smaller. Place the lid on top of the avocado, and trim off the edges so the avocado circle is completely round. You can use the trimmings to patch your circle here and there. Brush your circle generously with truffle olive oil.

Heat a non stick frying pan over high heat. Brush all sides lightly with truffle oil and fry the cubes in the preheated pan until golden brown and crispy. Place the fried halloumi on top of the avocado wraps and garnish with the pomegranate seeds, wasabi crumble, lettuce, chopped chives and drizzle with more truffle oil to your liking.