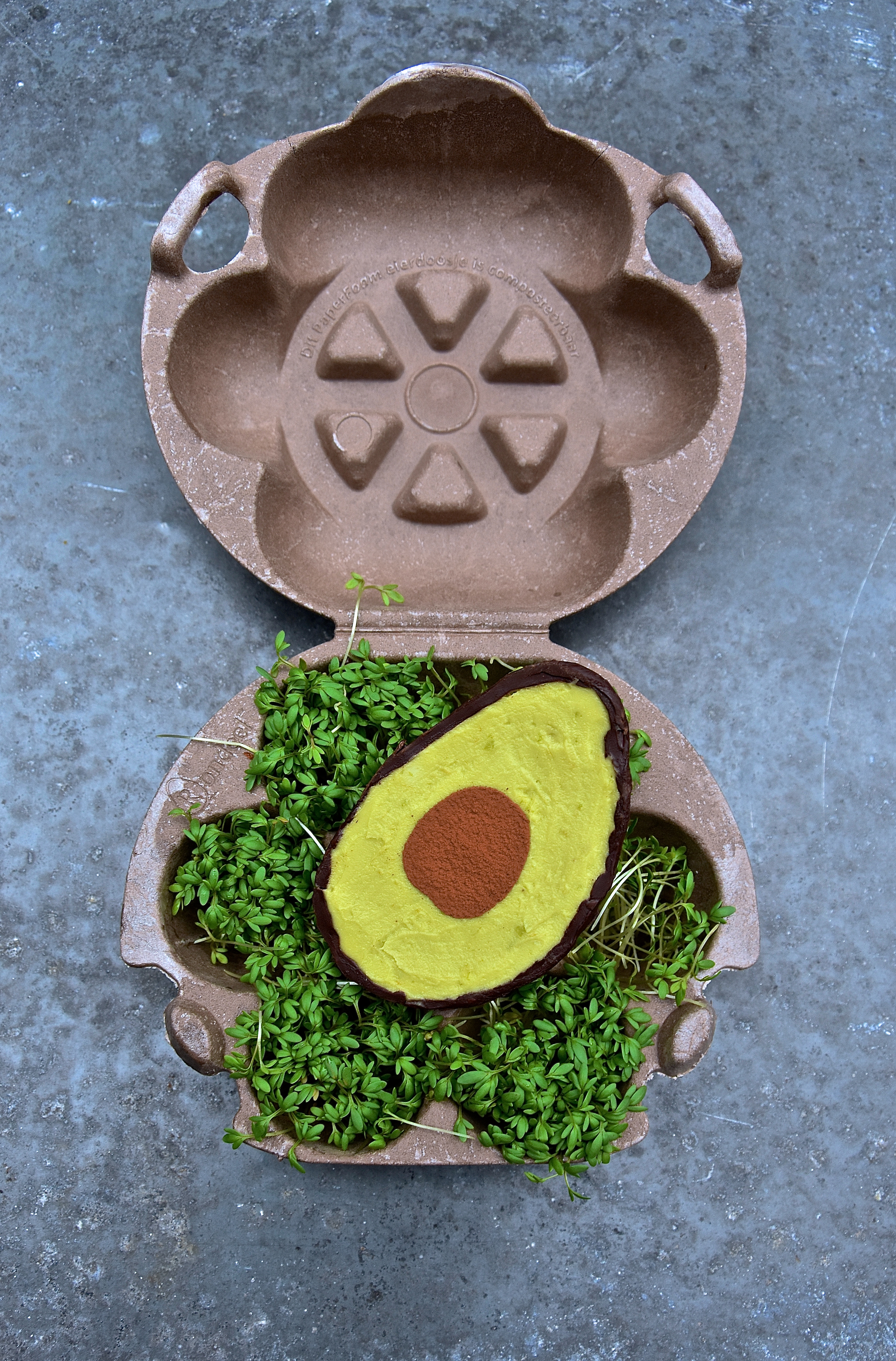 19 Apr

Avocado Easter Egg

Avocado mousse with lime, vanilla and chocolate, served as an avocado

NOTE: Freeze the halved avocado skins overnight.

Ingredients
2 avocados (from 1 avocado you only need the shell)
½ lime, zest and juice
50 gram coconut oil, melted
50 ml agave syrup
1 tbsp. maple syrup
1 tsp. vanilla essence (extract)
60 gram pure chocolate
± 1 tbsp. cacao powder
parchment paper, small sieve
optional: cress

Method
Use the four empty shells of two halved avocados, fill them with water and freeze in the refrigerator overnight.Use the flesh from 1 avocado. Blend all the filling ingredients (remember: use the flesh of only 1 avocado) in the food processor until smooth. Put the filling in the fridge for at least 30 minutes to set.

Remove the frozen avocado shells from the refrigerator. Put them round side up on a piece of parchment paper. Melt the chocolate au bain-marie. Pour the chocolate over the four halves – use a spoon to make sure the chocolate coating is smooth. The chocolate will harden quickly. Once firm – remove the ice and the avocado shell. You will now see the beautiful avocado skin (unfortunately) on the inside of the egg only. Remove excess chocolate with a sharp knife – try to make the chocolate egg look like an actual avocado shell. Spoon the mousse into the chocolate shells. Make sure the tops are completely smooth, so that they look just like avocado halves. Use a piece of parchment paper (slightly bigger then the avocado) and cut an 'avocado pit'. Put this paper with the hole in it on the egg and use a sieve to spread some cacoa powder – to resemble a pit. Serve on some cress.