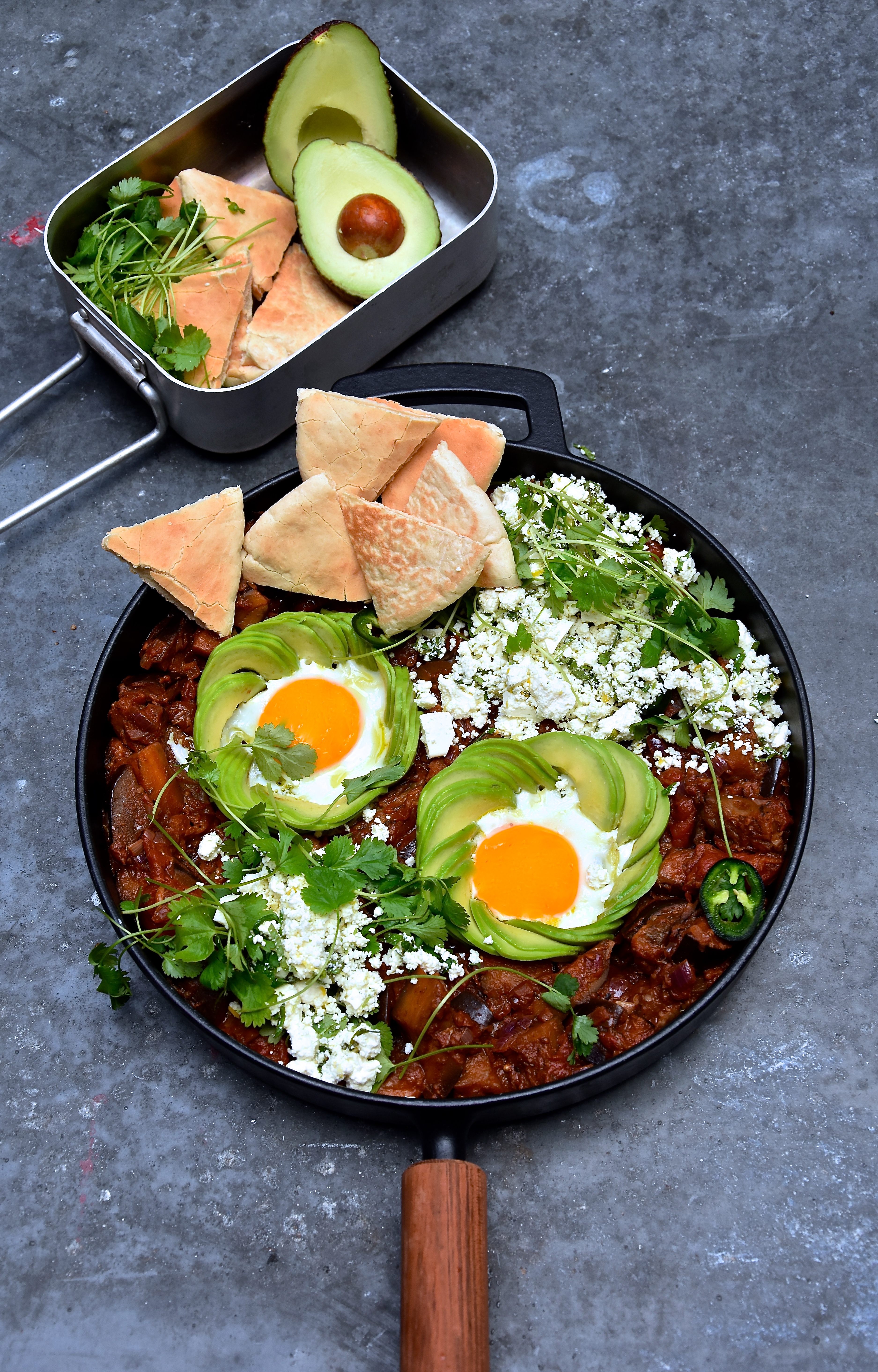 15 Jan

Shakshuk-a-vocado (serves 2)

Fooddeco teamed up with Avocados from Peru (AFP) and the World Avocado Organization to celebrate the love of avocados with recipes to inspire you for a Fit January! 

Ingredients
1 avocado
2 eggplants
2 red onions, finely diced
4 garlic cloves, grated
Fresh coriander, leaves and stalks
1 tbsp. ras el hanout, more to taste
1 can peeled tomatoes (+ ó can filled with water)
1 tbsp. balsamic vinegar
2 eggs
100 grams feta cheese
1/2 lemon, zest only
Fresh mint
1 tsp. grated ginger
optionally: 1/2 tsp. chili flakes (1 tsp. if you like it spicy)
pita bread
Extra toppings: jalapeño pepper
Note: Leave the chili flakes out when cooking for kids.

Method
Heat a medium sized pan/skillet and add olive oil generously.
Cut the eggplant into cubes and cook over medium heat for 5 to10 minutes
until soft and golden brown. Remove eggplant from the pan. Add some extra
oil and add the red onion. Cook until soft and translucent, mix in the garlic
and cook for another two minutes. Add ras el hanout and mix to combine.
Add the eggplant to the pan and cook for two minutes until thoroughly
mixed. Add tomatoes, water and balsamic vinegar. Bring to a boil – reduce
heat – and let simmer for ± 30 minutes – stirring occasionally – until eggplant is
super soft and the sauce resembles a pasta sauce substance.
Meanwhile cut the avocado halves into 2 avocado roses – leave a big hole in
the middle (where you can fit in the eggs). Put the avocado roses on top of
the shakshuka and crack an egg into each. Cook the eggs until they are to
your liking. Meanwhile combine the crumbled feta, ginger and lemon zest.
Scatter this mixture over the shakshuka and serve with warm pita bread.