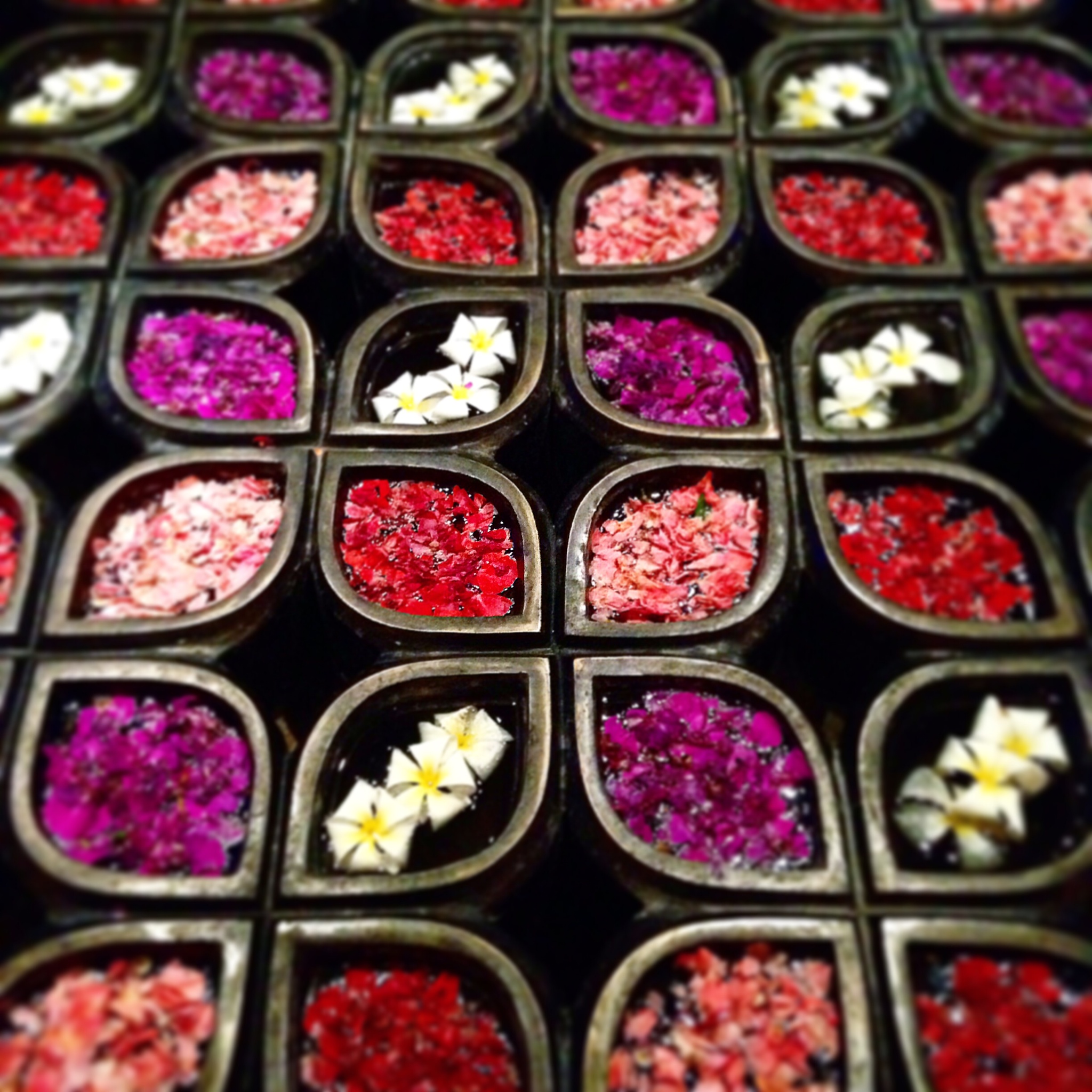 22 Oct

Food Deco goes Bali

FoodDeco visited Bali from August 22nd till September 5th 2014. For a vacation, but mainly as a culinary trip! And the trip definitely ended up being culinary! Shortly I will recommend you some of the restaurants we visited.

We stayed at four different places; Nusa Dua, Manggis, Seminyak and Ubud.
We're definitely not the backpack types, therefore instead of making a "touristic" route on forehand – we made sure we booked at the best restaurants in Bali. Please don't get offended by this ;-), but indeed maybe we're a little bit more interested in culi then culture. Actually, for me it's sort of the same thing.

Therefore – not highly unexpected – our stay at Nusa Dua was mainly to visit one of the best fine dining (beach front) restaurants of Bali; Kayuputi Restaurant at The St.Regis Bali Resort. The inside décor and open kitchen (as well as the hotel) are very beautiful, clean and warm, but we preferred to sit outside. Also with a lovely ambiance and a beautiful view. We enjoyed the 7 course Degustation menu, including: slow confit of prawn tartare, scallops, ultra rare seared yellow fin tuna, fillet sea bream, bread crusted of Australian milk-fed lamb rack a selection of cheeses and Kemangi basil infused compressed strawberry. At Kuyuputi we tried Balinese wine for the first time, unfortunately this would also be the last time. After your dinner at Kuyuputi I recommend to have a Gin Tonic (or any other cocktail) at the st. Regis hotel bar.

Something completely different but just as good and romantic is having a Romantic sunset dinner – in shorts and flip-flops – at Jimbaran Beach. I would definitely recommend Nyoman's Café. Nothing fancy but just a great local ambiance, a great view and the best Bali seafood. We ordered the Jumbo Prawns twice, and off course drank a couple of bottles Bintang. Definitely a must-visit food (deco) destination!

One of the most romantic fine dinging restaurants in Bali would be Mozaic Restaurant, situated in Ubud (Mozaic also has a beachside restaurant in Seminyak).
Make a reservation in their "tropical" garden with lanterns hanging from the trees. We choose the Discovery Menu – a menu with local influences, including; seared tiger prawns, pan seared Tasmanian salmon, roasted duck breast, kintamani suckling pork, fresh sour sop sorbet and kenari nut and curry parfait.

One of the resorts we stayed in recommended Restaurant Locavore, Ubud. The owner – a very nice and enthusiastic guy – who appeared to be Dutch! This was our last night in Bali and we had one of the best dinners (and two bottles of imported affordable wine). The (open) kitchen is best described as modern, European and pure greatness! All Dishes are made from quality local ingredients. We decided to select the "Herbivore 9-course Tasting Menu", including these two amazing and beautiful plated dishes:
– Squid & Chorizo: Slow-cooked & Grilled squid, passion fruit juice, crumbled fresh chorizo sausage, borage flowers, pickled fennel, pomelo segments, shaved radishes, fennel tops.
– Steak Tartar: Raw beef, Sumbawa Oyster, sea weed, nasturtium mayonnaise, pickled shallots, mustard leaves, crispy shallots, nasturtium leaves & flowers.
Locavore buys a whole organically fed pig every week and break it down themselves.
We were the last people to leave and surprisingly enough this weeks pig arrived though the main entrance in one piece on a stick, carried by three men. Luckily enough I have a strong stomach. Overall – in my opinion – this restaurant deserves a Michelin star!

Are you hungry yet? Unfortunately there's also some bad news. Good (imported) wine is hard to get and very expensive. The local wines (grapes grown in AUS and bottled in Indonesia) are in my opinion – and especially for European – sour, sweet and sharp at the same time. And I do not recommend this pairing a fine-dinging menu.
Nevertheless Bali offers a brilliant dining experience! For all restaurants I recommended, please make sure you book a table well in advance!
Selamat Makan!